Social Media Management for Preschools.
In today's digital age, social media has become an integral part of our daily lives, and its impact on businesses cannot be ignored. For preschools, social media platforms like Facebook, Instagram, and Google Business can be a powerful tool for building and engaging with their community. We can leverage my experience in social media marketing for preschools to assist you in strategically positioning your brand across various social media platforms​
Our Social Media Management Deliverables
#1 Social Media Management
In today's digital age, having a strong social media presence is critical for the success of any preschool. As a preschool owner, it's essential to recognize the importance of being active on platforms like Facebook, Instagram, and Google Business. Failing to do so can result in missed opportunities to showcase your brand, connect with parents and guardians, and ultimately, grow your enrollment.
#2 Parent Engaging Posts.
We will develop a strategy, create compelling designs, and schedule 8 posts per month on your preschool's social media channels to engage parents. These posts will be uniquely tailored to promote your preschool brand and its offerings.
#3 Regular Activity Picture Uploads.
In addition to regular parent-engaging posts, it's essential to showcase the activities that take place at your preschool on social media platforms like Facebook, Instagram, and Google Business. My online portal "CreativeConnect" allows you to upload all your activity pictures. We take care of everything, including adding your preschool logo as a watermark on every activity picture, creating a descriptive caption, and including related hashtags. Your preschool's activities will be showcased in the best possible way, attracting attention and engagement from your audience.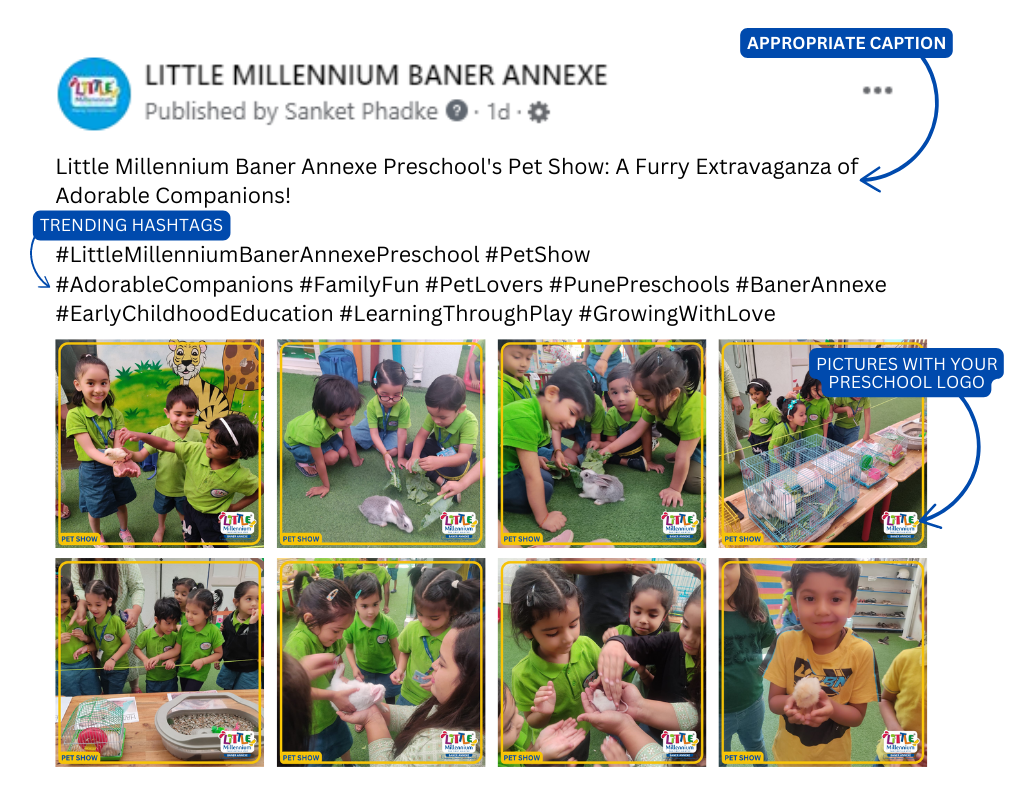 #4 Customised Artwork Designing.
In addition to the standard posts, such as birthday wishes and activity pictures, we will fulfill up to 8 artwork requests each month to meet your diverse design needs. These requests can include event invitations, admission announcements, certificate designs, no parking boards, banners, and more. Both the design and content of the artwork will be handled by me or a designated designer and a content expert.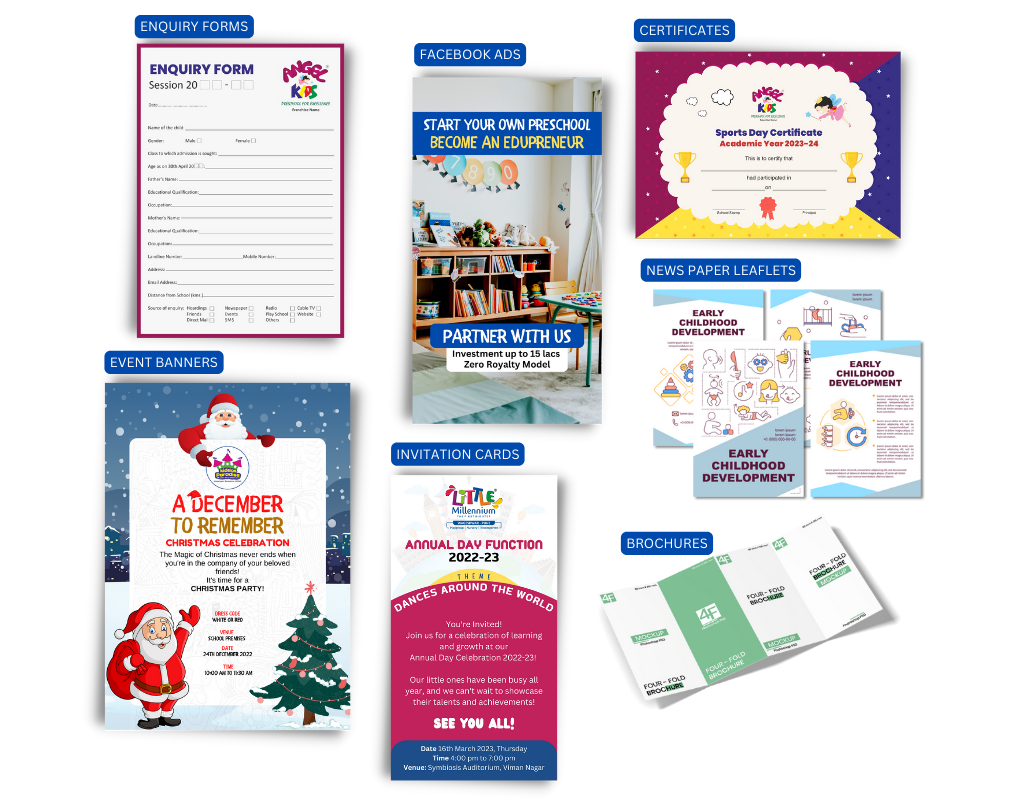 #5 Regular Facebook Cover Page Update.
It is important to update your Facebook cover page on a regular basis for several reasons:
Freshness: By updating your cover page regularly, you can keep your Facebook profile fresh and engaging.
Visual Appeal: A visually appealing cover photo can catch the attention of visitors to your Facebook profile.
Seasonal or Timely Updates: Updating your cover photo periodically allows you to reflect seasonal changes or align with specific events, holidays, or campaigns.
Storytelling: Your Facebook cover photo can be an opportunity to tell a story or convey a message.
#6 Reel Videos & Editing.
Instagram Reels and WhatsApp status updates have emerged as the latest trends in social media. Incorporating Reels into your posts can capture the attention of potential parents for your preschool. To assist you with this, we will create one reel every week.
#7 Google Business Ranking.
Since preschool business relies on a localized business model, appearing in the top three results on Google search can significantly increase walk-ins for your preschool. While it may not be a simple feat, it's certainly achievable. Through various optimizations, it is possible to improve your ranking within a period of 30 to 45 days. We will work diligently to enhance your Google business listing and improve your ranking, making it easier for prospective parents to find your preschool when searching for the nearest one in your area.
#8 Access to CreativeConnect.
CreativeConnect is a dedicated online portal tailored for preschools, aiming to bridge the gap between preschool owners and our social media team. It empowers preschool owners to submit artwork requests, share activity pictures, seek birthday templates, and explore a range of other interactive features.
To get more details or to Sign-up,
please fill up the below form: